Made in HK Mark
Design Concept of Hong Kong Mark
Introduction
The Made in Hong Kong Mark Scheme (the Scheme) introduces a unified geographical indication to identify and certify products as originating from the territory of Hong Kong. To this end, a striking symbol has been designed as the distinctive visual identity to be used in both official occasions related to the Schemes and communication items of the participating companies (Licensees).

Design Concept and Standard of the Mark
Made in Hong Kong Mark was designed by the Honorary Logo Design Advisor Mr. Charles Ng, one of Hong Kong's top designers and brand consultants. The design concept of the Mark is a combination of two prominent elements, a seal and a Chinese character "製". Seal is a traditional incarnation of commitment and credential. While the "製", which literally means "Manufactured" or "Made", is carved out with forceful strokes in Chinese calligraphy; and it is made up of the simplified-form "制" on top of English wordings − "Made in HK". This precise and harmonious transmutation not only explicitly illustrates the geographic origin of Hong Kong products, but also echoes on the uniqueness of Hong Kong industry as a genuine crossover of international vision and local wisdom. Besides, the endorsement by the logo of Hong Kong Brand Development Council and the remarks thereof also add value to the credibility authority of the Mark.
Specification & Format of The Mark (Selected)
1. Master Mark (Vertical Lock-up)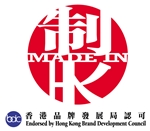 2. Others (Ring Shape)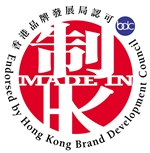 3. Others (Horizontal Lock-up)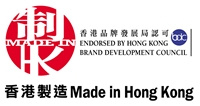 Design Specification
The Mark should be created and used in accordance with the technical specifications stipulated and illustrated in the"Visual Guide for Made in Hong Kong Mark", such as standard color scheme, lock-up format, fonts and layout of logotypes.