Delegation to Guangdong
The Council dispatched a delegation to Guangdong on 22 June 2011. The 30-member delegation was led by Chairman Ms Shirley Chan and Vice-Chairman Mr Simon Wong, JP. Other delegates include Mr Ng Ching Wun, Mr Aaron Shum, Mr Felix chung, Mr Wong Wai Sheung, Mr Michael Yu, Mr Joseph Chow, Dr Lo Kam Wing, Dr Danny Wan, Mrs Luna Chi, Dr Sherriff Luk, Mr Garic Kwok and representatives of selected BDC members.
Arrived in Guangzhou, the delegation was invited by Chairman Ms Shirley Chan to visit a flagship store of the brand "Aquascutum" under YGM Trading Limited in The Garden Hotel Guangzhou. During the visit, the delegation was warmly received by officials of the Guangdong Province Government., including Mr Tan Juntie, Deputy Secretary General of Guangdong Government and Director General of Hong Kong Macao Affairs Office, Mr Zhu Wanchang, Deputy Director General of Guangdong Intellectual Property Office, Mr Yao Dehong, Chief Economist of The Economic and Information Bureau of Guangdong Province, Mr Chen Yuming, Deputy Inspector of Department of Foreign Trade and Economic Cooperation of Guangdong Province, Mr Ke Xichang, Deputy Inspector of Guangdong Province Administrator for Industry & Commerce, Mr Lu Xiaozhou, Vice Chairman of Guangdong Federation of Industry & Commerce, Mr Su Hu, Director of Department of Quality Management of Administration of Quality & Technology Supervision of Guangdong Province, Mr Piao Junan, Director of Guangdong's Association for Promotion of Cooperation between Guangdong, Hong Kong and Macao.
The delegation held a luncheon cum discussion meeting at the China Hotel. Officials of branding related departments of the Guangdong Government were invited to share on the latest updates on brand-building and policy on economic development in Guangdong. The delegation had a fruitful discussion with the officials.
The delegation then visited the factory of Guangzhou Top Score Manufactory Ltd and Luk Fook Group.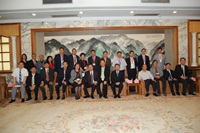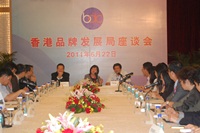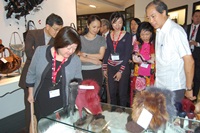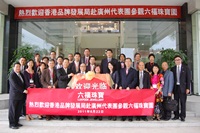 Back