Hong Kong Top Service Brands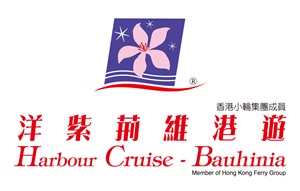 Brand
Harbour Cruise-Bauhinia
Time of Establishment
1998
Company
Galaxy Hotel Management Company Limited
Award (Year)
Hong Kong Top Service Brand (2010)
Main Service(s)
Dining Cruise
"Top Mark" Registered Categories
Catering Service (Cruise Restaurant), Sightseeing Cruise, Wedding Consultancy
Address
Units 2201-02, 22/F, Java Road 108 Commercial Centre, North Point, Hong Kong
Tel No.
2802 2886
Fax No.
2802 2881
E-mail
reserve@cruise.com.hk
Website
www.cruise.com.hk
Wits for Win
Harbour Cruise-Bauhinia provides food and diversified entertainment to every local and overseas guest on board. The voyage offers unique harbor sightseeing and fine dining experience to guests, leaving in their mind happy memories about Hong Kong — Dr David Ho, Group General Manager of Hong Kong Ferry (Holdings) Company Limited.
Company Profile
Harbour Cruise-Bauhinia owns four multi-functional cruise vessels for sightseeing and dining, which provides Chinese and Western buffets, chartered boat functions and wedding banquet. While cruising in a luminous evening, guests can enjoy delicious food and live band entertainment. On the 360-degree open deck, they can watch the world-renowned light show "A Symphony of Lights" and immerse themselves in gorgeous views of Victoria Harbour especially the fabulous architectures on both sides, having a perfect chance to interact with the inspiring and energetic city of Hong Kong.
Track of Glory
Harbour Cruise-Bauhinia is the only company in Hong Kong owning cruise vessels with Marine Restaurant Licence, Liquor Licence and Entertainment Licence; and each vessel can accommodate over 350 guests. It is often selected by various organisations as the venue and service provider for big events. Over the years, many large-scale events had been hosted on cruise, such as "Olympic RingsLight Up Ceremony", "East Asian Games Opening Ceremony", "Miss World Pageant" as well as the farewell party for "National Gymnastics Extravaganza". To keep pace with the times, Harbour Cruise-Bauhinia pioneered in providing shuttle service for Kai Tak Cruise Terminal and cruise to watch China's Navy Aircraft Carrier Liaoning. In 2018, it organised the "Classic Ferry Ride" in collaboration with the Hong Kong Office of Miyazaki Prefectural; and also dispatched a fleet to Hong Kong-Zhuhai-Macao Bridge to join the opening celebration.

Striving to provide high-quality services and unforgettable experience, Harbour Cruise-Bauhinia is popular among local and overseas guests. It has received a number of recognitions, such as "Hong Kong Q-Mark Service Scheme" for 15 consecutive years since 2004, "ISO 9001:2015" certification, "Halal Certified Restaurants" accredited by the Incorporated Trustees of the Islamic Community Fund of Hong Kong, "Quality Wedding Merchant" and accredited member of "Quality Tourism Services Association". In 2018, Harbour Cruise-Bauhinia was awarded "Consumer Caring Reward", in recognition of its effort and responsiveness in addressing customers' needs.

The conferment of "Hong Kong Top Service Brand" testifies to Harbour Cruise- Bauhinia's popularity among international tourists and local community.

Back